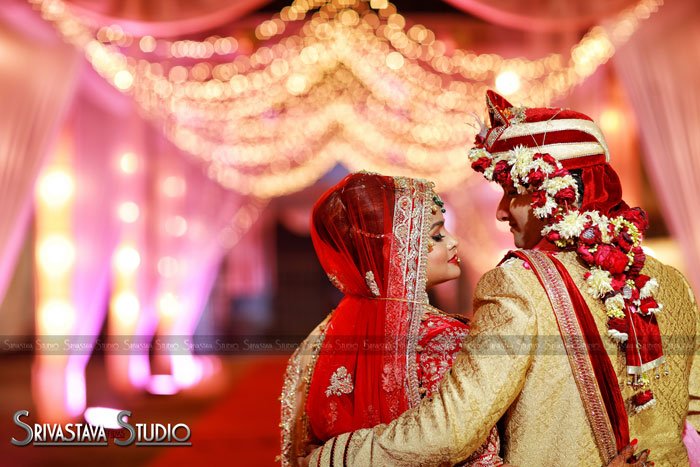 It is normal for every couple who is going to marry that they have some expectations towards their wedding event. Srivastava Films and Studio understand and welcome all your smart ideas coming from the couple, his parents and their relatives. We respect each opinion and we understand that it's your wedding so your opinion is mandated to be fulfilled. We have a team of creative and skilled photographers who are serving the best in photography industry in the Kanpur. Now it is well known thing in the whole city that Srivastava Films and Studio have the best wedding photographer in Lucknow. We are serving you the high quality wedding images and picture in suitable prices. We have so many creative ideas which makes our service a lot extraordinary than other wedding photography studios. We have so many services to make your wedding more attractive in your each guest's perspective.We accept that with every popular photography niche, wedding photography enables shooters to investigate their imaginative opportunity while looking for motivation from others. These outcomes in wedding picture takers having a few "explicit" styles, contingent upon their proposed reason.A wedding photographer is the only person who stays with the wedding couple for every moment and he is always in hunt to capture your every intimate moments and your first glance after being bride and groom, in the camera's frame. A photographer is the only person who works for your happiness. The picture he clicked for you provides you great joy after wedding.
Things that wedding memories keep in mind during the wedding and what makes them best in the city
There are so many things which photographer from Srivastava films and studio keeps in their mind to make your wedding album memorable and attractive. Few of them mentioned below:-
Funny moment during the wedding: - Wedding is like a festive time in any family, so a wedding album without joyful pictures seems so boring. It should have the clicks in the album where people can relate themselves and recall their happy memories. Every couple needs the wedding album which can fill their heart with joy after watching the wedding album. Fun moment pictures tells the story that how fun you gained during the wedding and what was the interesting indent happened during the wedding.
Emotional pictures of your relatives: - Photographer works in wedding memories always try to grab that scene in their camera, where they get that something emotional activity is going on like two brother or sister meeting in the marriage after long time. Any special guest arrived at your doorstep on your wedding invitation. Emotional picture in wedding albums give you a great sentimental throwback which lost you in tears of joy.
Romantic pose of the couple: - Wedding albums seems incomplete if it does not contain some romantic pictures of the couple. Photographer from Srivastava films and studio has great ideas to click wedding couple pictures and they suggest so many romantic pose to the wedding couple by which they can take some romantic picture for the wedding album. You can likewise approach them for props and true to life subjects on the off chance that you like.Likewise, photographer suggest himself what props will suits on the wedding couple and which prop and theme will enhance the appearance of your wedding album.
Group photos of your friend and relatives: - It has been found that, those friends who arrived at the wedding they always ask for the wedding album to watch. So we always take care of your friends also to keep them in your wedding album pictures.